New artists added to the bill include: Pretenders, Billy Bragg, Anna Calvi, Public Service Broadcasting, Beth Orton, Alvvays, Sleeper, Jealous Nostril, The Go! Team and more
Previously announced artists on this year's eclectic lineup include: Interpol, Primal Scream, Gogol Bordello, Gary Numan, Echo & The Bunnymen, Flogging Molly, Viagra Boys, Pigs Pigs Pigs Pigs Pigs Pigs Pigs, The Beths, The Mysterines, She Drew The Gun, Yard Act, Snapped Ankles and many more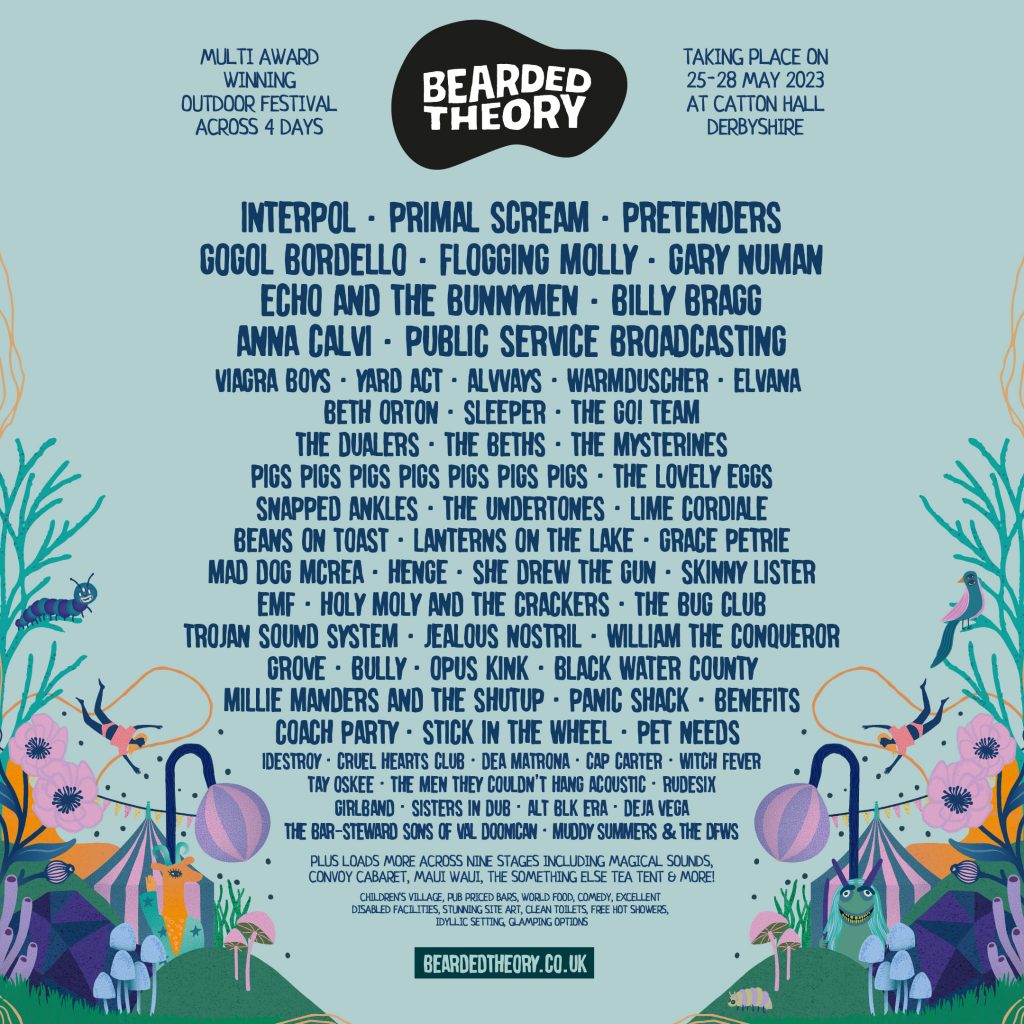 Set in the heart of The National Forest, the multi award winning independent family festival Bearded Theory returns for its 14th year on 25-28 May 2023. Cherished for its intimate, idyllic location, grassroots ethos and miscellany of musical offerings, the festival has become a sanctity for alternative music lovers across the country and for the local community alike. This year, they invite you to join them for one of their most exciting line-ups to date.
Today the festival announces thirty new additions to the lineup, featuring the likes of the iconic Pretenders, led by the legendary Chrissie Hynde with her inimitable voice and renowned for their songs that crossed the bridge between punk/new wave and Top 40 pop, progressive left-wing activist and singer-songwriter Billy Bragg, Mercury and BRIT nominee Anna Calvi, respected instrumentalists and kings of sampling Public Service Broadcasting, critically acclaimed Canadian indie-pop powerhouses Alvvays, BRIT award winning beguiling folktronica artist Beth Orton, the exciting new project from indie mogul Johnny Borrell Jealous Nostril, and many more, such as Sleeper, The Go! Team, Lime Cordiale, Witch Fever, and Lanterns on The Lake.
They are joined by the legendary Interpol, who were at the forefront of the New York City alt-rock buzz in the early 00s, Scottish heroes Primal Scream, self-proclaimed gypsy-swing punk rockers Gogol Bordello, one of synth pop's founding fathers Gary Numan, seven-piece Celtic-punks Flogging Molly, and post-punk paragons Echo & The Bunnymen, served alongside some of the best up-and-coming names in the world, such as Viagra Boys, Yard Act, Pigs Pigs Pigs Pigs Pigs Pigs Pigs, She Drew The Gun, The Beths and The Mysterines.
This year also sees the addition of a brand-new Big Top Stage in the main arena, accompanying the main Pallet Stage and beautiful Woodland Stage tucked between the trees. This latest addition gives festival-goers the opportunity to hear more music from more artists, in more places than ever before, alongside returning fan-favourite stages Magical Sounds, Maui Waui, Convoy Cabaret, The Something Else Tea Tent, and The Magic Teapot. Also returning once again, hidden away in the midst of the festival site is the Rogues Hideout, the area especially created for the teenage Bearded goers! In the day time it's an amazing area for activities and workshops, but by night is a banging DJ and live music venue with up and coming DJs from all over.
Also returning to Bearded Theory this year is The Festival School, a wholly innovative initiative that celebrates the amalgamation of the importance of education and family time that takes place at the festival's Children's Village, a very special area of the site that prioritises music, learning, creativity, fun and chill with festival kids in mind. The school, which requires official enrollment and permission from the children's respective schools, runs from 9am-3pm for years Reception through till Year 10 on the Friday of the festival, and provides a huge itinerary of educational classes. Previous years have included maths (how to budget a music festival), P.E. classes by Derby County FC, Sublime Science, English, History and loads more. Bearded Theory believes that education shouldn't be confined solely to four walls, so this resource serves as an effective way to put those beliefs into action. This year's school is now fully booked.
If crafts are more your thing, The Earth Area, Bearded Theory's crafts and healing space, is a beautiful area to discover, learn and grow, whether you're a small or large child. Acquire new skills to take home, excite your senses and treat your body, mind and spirit in this interactive, fun, creative and healing zone. Food and drink is taken seriously at Bearded Theory, boasting multiple amazing bars on site that offer award winning ales, exciting craft beers from local breweries, spirits, cocktails and plenty of alcohol free options at sensible prices. Plus all the food vendors have been painstakingly selected to provide delicious and good quality foods, with plenty of unique meaty, vegan and vegetarian options, without overcharging.
Bearded Theory recognises that the cost-of-living crisis is affecting everyone, so henceforth have made the decision to freeze tickets for Teens and Children at 2022 prices. Additionally, the festival offers monthly payment instalment plans, which enables buyers to spread the cost of purchase up until May 2023. Tickets are on sale now. For more info on payment plans, camping options and facilities please go HERE.