DHP Family have today revealed the first wave of artists for charity fundraiser festival Beat The Streets, renowned locally for the vital funds it has raised in support of Framework Housing Association and awareness it has brought to the rising homelessness crisis in Nottingham. The festival will return to city centre venues on Sunday 29th January 2023 with an array of local artists already confirmed for the extravaganza.
For this initial announcement, Beat The Streets have already confirmed more than 25 artists, performing across the day will be: Ferocious Dog, Lawnmower Deth, Palm Reader, alt blk era, Girlband, The Chase plus many more, with further line-up reveals scheduled to follow. The festival will take place across major venues in the city centre including Rock City, Rescue Rooms, and Bodega, with all proceeds from tickets, bar, and merch going directly to Framework.
Since launching in 2018, the festival has become a very well-established date in the Nottingham calendar, known not just for the financial support & awareness it delivers for Framework, but also for its support of artists from Nottingham & the East Midlands who consistently feature prominently throughout the bill. The four successful events over the past five years have seen incredible performances from the likes of Sleaford Mods, Jake Bugg, Do Nothing, Saint Raymond, Evil Scarecrow, Rolo Tomassi, and many more.
This year proves to be no exception with the news that legendary Nottingham folk-punk band Ferocious Dog will headline. The band are long-time supporters of Beat The Streets, having previously performed at the inaugural event in 2018. They are known for their support of homeless charities, regularly encouraging fans to bring foodbank donations to their shows up & down the country, their appointment as headliners a perfect fit.
English thrash metal heroes Lawnmower Deth are also set to return to Beat The Streets. Formed in Notts in 1987 and signed to iconic Nottingham-based label Earache, the band reunited when asked to support Bullet For My Valentine at Alexandra Palace in 2008, and since then have graced Download Festival six times. British hardcore group Palm Reader will also be making an appearance again, with the band's ferocious live show having garnered stellar critical acclaim and a loyal & dedicated fanbase.
Beat The Streets continues to showcase the most exciting new music coming out of the local scene with the addition of ALT BLK ERA to 2023's bill, the nu-metal sister duo won this year's Nusic Future Sound of Nottingham and opened the Splendour 2022 main stage earlier this year. New to the Nottingham scene, Girlband are also set to play in January. Their lead singer & guitarist Georgie has previously played on stages at Beat The Streets multiple times, and following their sold out debut gig, the band are set for great things.
The full line-up so far for Beat The Streets 2023 is: 7th in Line, alt blk era, Buenos Treehouse, Catmilk, Electric Pets, Express Office Portico, Fat Bamboo, Ferocious Dog, George Gretton, Girlband, Goodgoodbye, Headsticks, Herd, JACK WOLFF & TY HEALY, Joey Collins and the Bushido Code, Lawnmower Deth, Left Hand Lane, Lilac Grove, Nactus Kunan, Palm Reader, Sharp Class, Stuart Pearce, Tash Bird, The Avion, The Big Sad, The Chase, The People Assembly, Vona Vella.
Over the past five years, Beat The Streets has brought the music community in Nottingham together to raise awareness of and funds for a vital cause; providing a stellar day of live music in the process, with over 15,000 tickets sold, and over £320,000 raised across ticket, bar & merchandise sales for Framework.
The funds raised by Beat The Streets so far have gone towards keeping the Sneinton Hermitage shelter open all year round; accommodating more than 60 high risk service users, employing two full time mental health workers to provide much needed support to over 1,500 service users with complex needs including substance misuse; supporting the charity & its service users throughout the Covid-19 pandemic when the festival went online with a Winter Fundraiser campaign; and helping to open Mechanics House, which provides accommodation and resettlement support.
DHP festival booker Joseph Patten said: "Beat The Streets is such an important event for us, the team behind the festival are passionate & dedicated to putting on an event that really helps our community. We were all ecstatic to extend our total to £320k+ during 2022 and are excited to see where we can get to after our next event! I'm delighted to welcome Ferocious Dog back as headliners, they played our first event and their Rock City shows are always full of energy – it'll definitely be a good one!"
On behalf of Framework, Head of Fundraising and Communications Claire Eden said: "There could never be a better time to raise funds to help people who are homeless and to provide additional mental health support for people who need it most.
"Beat The Streets is Framework's biggest and most well-known partner-led fundraising event and we are delighted that DHP Family wishes to continue its outstanding support for our work in Nottingham and beyond."
Beat The Streets is being delivered by DHP Family in collaboration with local organisations and music groups including I'm Not from London; Farmyard Records; Hockley Hustle, and Rough Trade. Tickets priced from £10 minimum donation, are on sale now from www.alttickets.com/beat-the-streets-tickets and will allow access for 14+ to all participating venues. Please keep an eye on the social channels or the festival website for updates.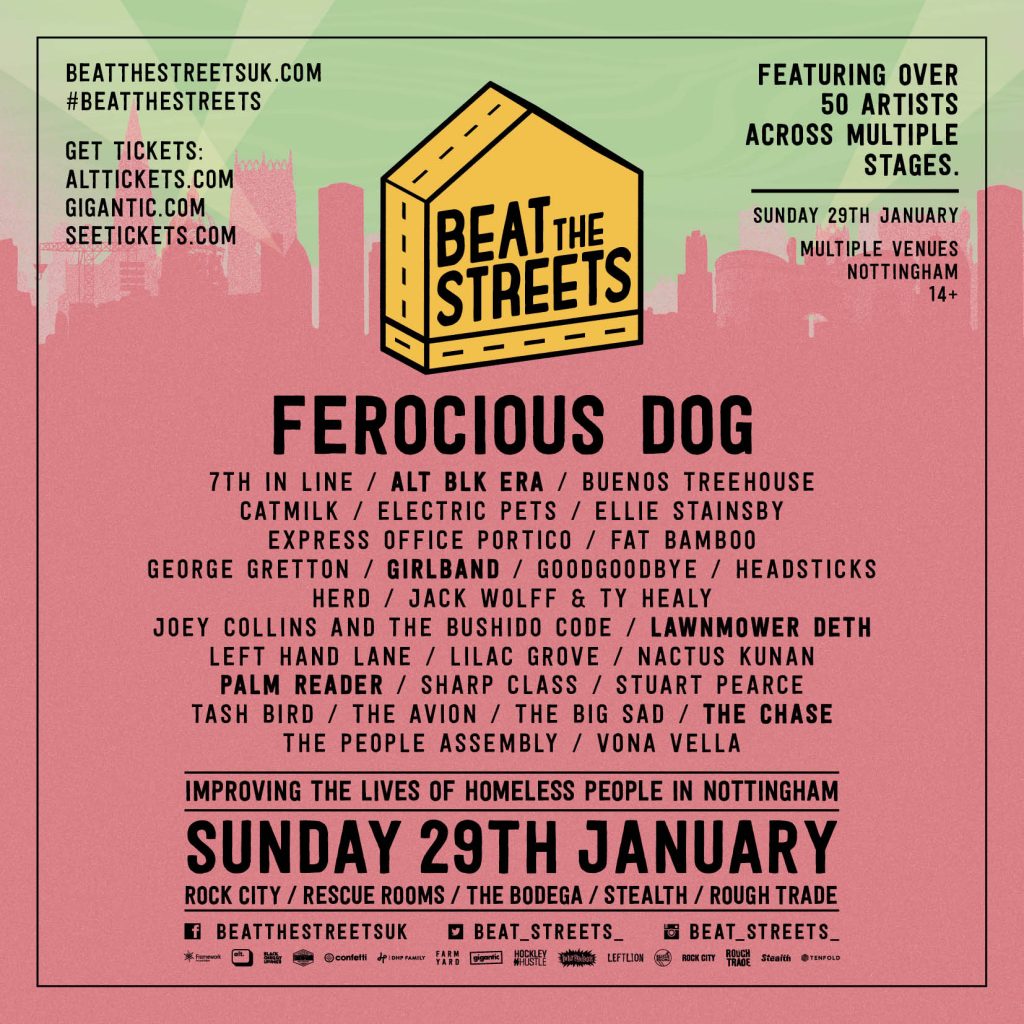 FB: www.facebook.com/beatthestreetsUK
Instagram: www.instagram.com/Beat_Streets_
Twitter: www.twitter.com/beat_streets_
Mailing List: www.dhpfamily.com/beat-the-streets-mailing-list/