MIRRORS, the one-day festival renowned for bringing forward-thinking new music to beloved venues in the heart of Hackney, returns to London after a 3-year absence, with news released today that the 2023 edition will be headlined by ethereal ambient-folk artist, Grouper; a UK exclusive performance for the singer-songwriter and multi-instrumentalist, and her first show in London since headlining The Barbican in 2022.
The festival has also revealed the first 10 names for this year's line-up, joining Grouper will be; John Carroll Kirby, Dur-Dur Band International, Lowertown, Prima Queen, Maria BC, Mark William Lewis, Adwaith, Anna Prior and Woom, with many more to be announced for the all-day event taking place on Saturday 28th October 2023, which will also host Bohemia Place Food Markets, Daytime Record Fair, Natural Wine, Craft Market, as well as late night after parties and more.
Following a brief interlude in Camden for its last outing in 2019 while the headline venue underwent refurbishment, MIRRORS heads back to its original home of Hackney this year with performances due to take place in the beautifully atmospheric St John's at Hackney Church, as well as iconic venues Moth Club, Oslo and Hackney Social.
As her solo project Grouper, Liz Harris combines aspects of ambient, psychedelic, and folk music as well as dream pop into music that is equally mysterious and moving. Her many releases, range from the lush and relatively poppy territory of 2008's widely acclaimed Dragging a Dead Deer Up a Hill to 2012's sprawling double-album A I A to more intimate works like 2018's Grid of Points. By borrowing from all of these approaches on 2021's Shade, Harris highlighted the emotional intimacy underpinning Grouper's music from the beginning.
LA producer, composer and keyboardist, John Carroll Kirby's background is steeped in jazz, with a signature sound that blends genres and styles. Regularly in demand as a collaborator with an array of superstars such as Solange, Frank Ocean and Harry Styles, Kirby recently received a Grammy nod for his work on Steve Lacy's smash hit Bad Habit, while his own releases ranging from 2017's Travel to his release earlier this year Blowout have garnered plaudits from the likes of Pitchfork, The Fader and Mojo.
Dur-Dur Band International are renowned for delivering one-of-a-kind performances. Originally gaining popularity in 1980s Somalia, the regrouping of some of the original Dur Dur Band founding members brings together a collective of legendary musicians. Lowertown are bedroom pop duo Olivia O and Avsha. With three albums under their belts while they were barely out of high school, the pair have enjoyed favourable reviews from the likes of Pitchfork and Line Of Best Fit for their lo-fi aesthetic and freeform songwriting.
Meanwhile, emerging artists Prima Queen and Maria BC are riding a wave of success for their recent releases Not The Baby EP (2023) and Hyaline (2022) respectively, with Prima Queen telling cinematic stories through their songwriting, while Maria BC makes ethereal use of a classically-trained mezzo-soprano voice layered over raw guitars and audio samples.
Completing the line-up so far are London singer-songwriter Mark William Lewis, fresh from the release of a debut LP of ambient/alternative indie earlier this year; post-punk three-piece Adwaith who have been building a reputation through stunning live performances of their Welsh language music; Anna Prior, perhaps best known for, but certainly way more than just the drummer in globally successful band Metronomy; and self-described "witchcraft barbershop", WOOM.  Plus more artists still to be announced.
Tickets for MIRRORS are on sale now, with a limited release of Super Early Bird tickets available first – head to alt. tickets quickly to secure yours: www.alttickets.com/mirrors-tickets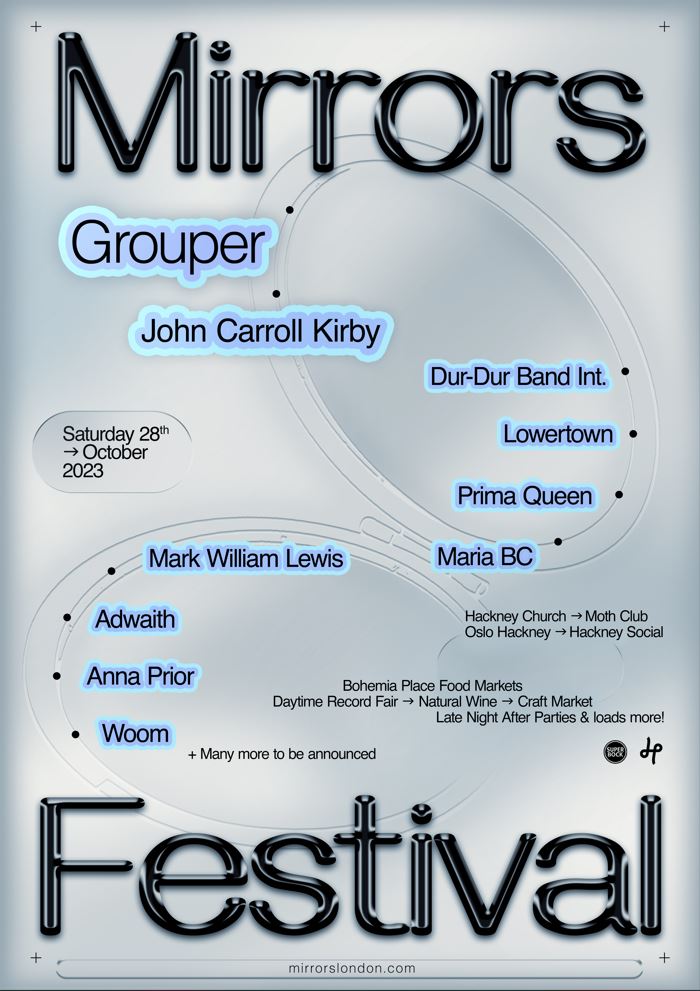 Join MIRRORS online
www.facebook.com/mirrorslondon
www.instagram.com/mirrorslondon
www.threads.net/@mirrorslondon