Hot off the heels of winning a national award for its positive community impact, Beat The Streets Festival has revealed a further selection of artists that will be performing at the 2023 event. The festival will take place at city centre venues on Sunday 29th January 2023 with an array of local artists confirmed for the extravaganza.
Beat The Streets, which is already renowned locally for the £320,000 it has raised in support of Framework Housing Association, is now nationally recognised for these achievements after fighting off fierce competition to be crowned the champion of the Sarah Nulty Community Impact Award at the UK Festival Awards earlier this month.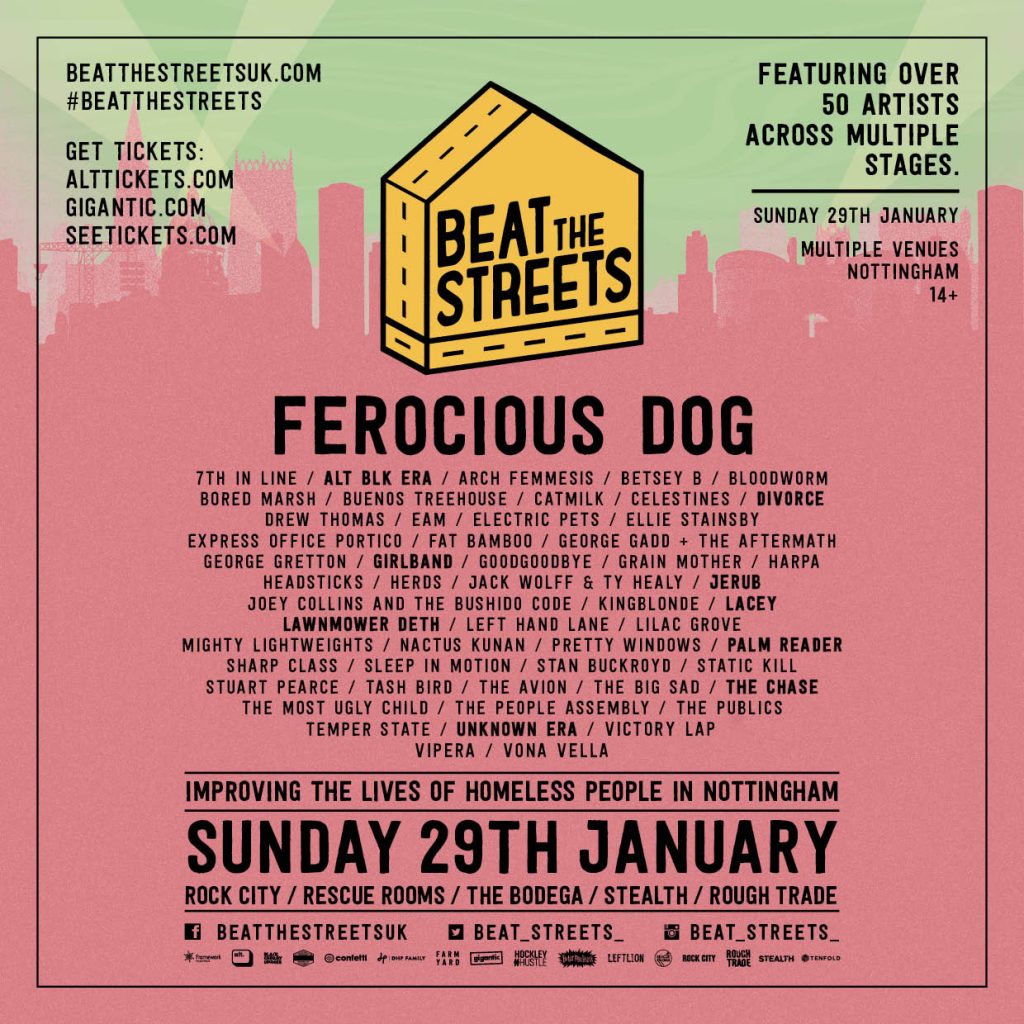 Following an initial announcement confirming esteemed local artists such as: Ferocious Dog, Lawnmower Deth, Palm Reader, alt blk era, Girlband, The Chase plus many more, the festival has added a further 25 names to the bill including: Divorce, Jerub, Lacey, and Unknown Era, across major venues in the city centre including Rock City, Rescue Rooms, and Bodega, with all proceeds from tickets, bar, and merch going directly to Framework.
2023's line-up is brimming with local talent from across the East-Midlands, something that has become a staple of the event. Divorce are one of Nottingham's latest breakout bands, the four-piece, comprised of an assortment of local musicians from other bands/projects have found recent success as a BBC Radio 6 Music favourite and recently signed a publishing deal with Sub Pop (the legendary Seattle label which was home to Nirvana). Their self-described "alt-country/grunge-ish" tunes have been gaining them recognition and have seen them touted as one to watch for 2023 in several music publications.
Soulful vocalist Jerub also joins the bill. Described as "an authentic storyteller with a heartwarming take on pop and indie", his beautiful songs have generated over 200,000 streams across all platforms. Jerub has been making music with a wide range of influences since his first single, released in 2019, and has garnered much support from BBC Introducing East Midlands, with many first listens of his glorious heartfelt lyrics, powerful rich vocals and majestic melodies.
Alt-rock pop band Lacey will also perform at the festival, following the release of latest single "Dream in a Little Less Colour" in November which recently earnt them their first play on BBC Radio 1. Unknown Era also make a return to Beat The Streets having previously played at the inaugural event in 2018. They stormed the main Rock City stage with their high energy blend of soul, ska, reggae, punk, rock, funk & dub, and a similar rousing performance can be expected in January.
The full line-up so far for Beat The Streets 2023 is: 7th in Line, alt blk era, Arch Femmesis, Betsey B, bloodworm, Bored Marsh, Buenos Treehouse, Catmilk, Celestines, Divorce, Drew Thomas, Eam, Electric Pets, Ellie Stainsby, Express Office Portico, Fat Bamboo, Ferocious Dog, George Gadd + The Aftermath, George Gretton, Girlband, Goodgoodbye, Grain Mother, Harpa, Headsticks, Herd, JACK WOLFF & TY HEALY, JERUB, Joey Collins and the Bushido Code, Kingblonde, Lacey, Lawnmower Deth, Left Hand Lane, Lilac Grove, Mighty Lightweights, Nactus Kunan, Pretty Windows, Palm Reader, Sharp Class, Sleep In Motion, Stan Buckroyd, Static Kill, Stuart Pearce, Tash Bird, The Avion, The Big Sad, The Chase, The Most Ugly Child, The People Assembly, The Publics, Temper State, Unknown Era, Victory Lap, Vipera, Vona Vella.
Over the past five years, Beat The Streets has brought the music community in Nottingham together to raise awareness of and funds for a vital cause; providing a stellar day of live music in the process, with over 15,000 tickets sold, and over £320,000 raised across ticket, bar & merchandise sales for Framework. Now with national recognition for these efforts, the festival hopes to push forward and build on the success of the last 5 years. DHP Family Director of Live Anton Lockwood said: "Delighted that Beat The Streets has won the Sarah Nulty Community Impact Award at the Festival Awards. To have the recognition for the event is fantastic, and we believe winning this will help us get great artists, sell more tickets and help the homeless in Nottingham even more."
The funds raised by Beat The Streets so far have gone towards keeping the Sneinton Hermitage shelter open all year round; accommodating more than 60 high risk service users; employing two full time mental health workers to provide much needed support to over 1,500 service users with complex needs including substance misuse; supporting the charity & its service users throughout the Covid-19 pandemic; and helping to open Mechanics House, which provides accommodation and resettlement support. But support for the homeless in Nottingham is still vitally needed, DHP Family MD George Akins said: "I'm really proud of what we have accomplished so far but going into this winter what Beat The Streets provides is needed more than ever and we hope to build on this success to enable us to help Framework support rough sleepers for as long as we can."
DHP festival booker Joseph Patten, who programmes Beat The Streets, said: "It's so great to be recognised in what is a very competitive area. I want to thank all the artists that donate their time and talent as well as the staff, crew, and DHP staff who work tirelessly in the run up. Can't wait to make next year's event even better than before and raise some much-needed funds for Framework. I'm really pleased with the line-up we've brought together so far for 2023 and these latest additions are sure to make it a mega day!"
Framework Chief Executive, Andrew Redfern said: "We could not be more delighted to hear the news that DHP Family's brilliant 'Beat the Streets' festival won the Sarah Nulty Community Impact Award at the UK Festival Awards ceremony.  This is a tribute to everyone at DHP Family who has been involved in creating and developing this event since 2018.
"Even with stiff competition from five other nominees there was reason to believe that 'Beat the Streets' would be a strong contender.  The award recognises 'excellence in community outreach and support' and 'festivals that work to actively raise funds or provide opportunities' for their communities.  Since its launch 'Beat the Streets' has always fulfilled these criteria in spades – raising hundreds of thousands of pounds towards accommodation, specialist support and resettlement work for rough sleepers in and around Nottingham.  This in turn has motivated other partners, including local businesses, to join the effort – thus further enhancing the scope and effectiveness of responses to homelessness and rough sleeping.  Hundreds of very vulnerable people have benefitted from interventions that respond to their individual needs.
"The festival is a hugely popular focus for those who are raising awareness of homelessness and encouraging the public to contribute towards tackling it.  We look forward to sharing the excitement of 'Beat the Streets' again on Sunday 29 January 2023 and to joining the celebration of this very well-deserved accolade."
Beat The Streets is being delivered by DHP Family in collaboration with local organisations and music groups including I'm Not from London; Farmyard Records; Hockley Hustle, and Rough Trade. Tickets priced from £10 minimum donation, are on sale now from www.alttickets.com/beat-the-streets-tickets and will allow access for 14+ to all participating venues. Please keep an eye on the social channels or the festival website for updates.