Thekla, the multi-award-winning live music boat venue and club in Bristol's floating harbour, is returning home on Monday 9 September following the successful £1m overhaul to secure its future.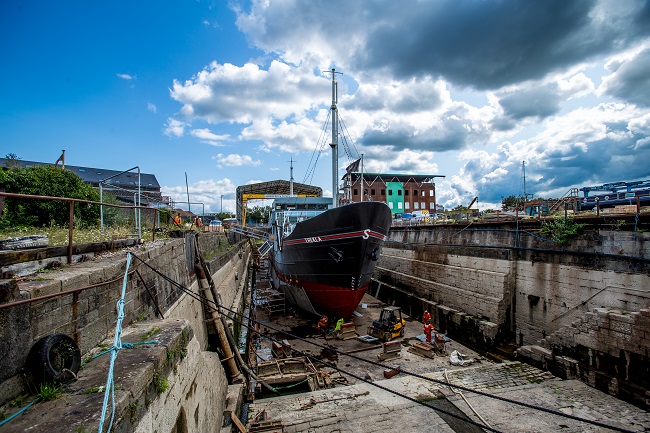 Built in 1958, the boat now has a new, steel offset hull welded into place around the whole of the existing hull. Although Thekla undergoes regular, routine inspection and repair a detailed survey showed that the existing hull was nearing the end of its life.
Thekla has spent the summer in Albion dry dock where a team of experienced craftsmen worked on the boat for three months to carry out essential repairs and refurbishment. While most of the £1m has been spent on the new hull, there is also a new dancefloor in the main room; new flooring in toilets and outside decking.
Thekla is returning to its usual position at East Mud Dock in the harbour on 9 September with the first Pressure student night aboard the ship taking place on 12 September, before funk & soul night Funk The Boat takes place on Friday 13 September. Saturday will see a Breakfast Records takeover with 15 top bands playing across two stages, before the return of Pop Confessional later that night.
The live schedule this autumn kicks off with folk punk band Ferocious Dog on September 15, with Marika Hackman, Pip Blom, Little Simz and Wasuremono among others all lined up before Christmas.
Thekla general manager Alex Black said: "It's great to be getting our boat back home. The work has gone really well in dry dock and it's fantastic to think DHP's investment has safeguarded Thekla's future for the next 50 years. We're all excited to be relaunching our live and club nights back in our usual home in East Mud Dock."
At over 50 metres in length, Thekla is one of the longest ships in Bristol's Floating Harbour. The grade II listed Albion dry dock, located next to the resting place of Brunel's famous ship the SS Great Britain, was reopened in 2018, allowing maintenance and repair work on large ships to be carried out in the city once again.
Thekla's live schedule took a three-month break while its popular club nights such as Pressure and Pop Confessional moved to the pop up Faraway Cocktail Club in Bristol city centre over the summer.